The Lilly Pulitzer Fall 2022 Sunshine Sale is officially happening Monday, September 12th at 7AM CST/ 8 AM ET!
What is the Lilly Pulitzer Fall 2022 Sunshine Sale?
Lilly Pulitzer sales typically happen two times a year, in September and January. Since Lilly rarely goes on sale, these sales do not disappoint! You can expect to see discounts of up to 70% during the Lilly Pulitzer Fall 2022 Sunshine Sale! This sale used to be known as The After Party Sale!
About the Lilly Pulitzer Fall 2022 Sunshine Sale Announcement
This sale is 3 DAYS LONG! As mentioned above Lilly Pulitzer Fall 2022 Sunshine Sale will start around 7 am CST on September 12th and will end at 10:59 PM CST on September 14th. New items are added to the sale each day (so that means the 13th and 14th!)
The Lilly Pulitzer Fall 2022 Sunshine Sale is ONLINE only. My MOST IMPORTANT recommendation is to have ALL your devices logged into your account with your payment info saved ahead of time. Have your computer ready, your browser on your phone, and your app! This gives you 3 different spots in the virtual line! There will be a "line" to get in, so be patient!
Shipping & Ordering Information:
For the easiest checkout experience, create an account with Lilly Pulitzer beforehand. You'll enter your name, email address, and shipping information. Be sure to enter a valid US shipping address that can accept packages for up to 6 weeks after the sale. Please double (and triple!) check all your personal information. You will not be able to log into your account in the hours leading up to the sale ( between 12 am-8 am ET on September 12th).
Click here to set up your account!
Make sure you log in the day before & your cookies will most likely keep you logged in! I'd also save my card to my account on Lilly's website for fast checkout. Paypal also works well for fast checkout!
Just because an item is in your cart does not mean it is reserved. You have to completely check out and pay before the product becomes unavailable to other shoppers in order to guarantee the item is yours.
You cannot make any changes to SALE ORDERS that have already been placed – double-check your cart thoroughly before you confirm your purchase to avoid any issues.
Processing will likely take longer than usual – due to the high volume of orders. A confirmation email will arrive within hours of placing your order, but shipping & processing may take up to 6 weeks. Orders may ship in multiple packages and result in separate shipping confirmations
Expedited shipping is not available during the sale, but the wait is worth it! Shipping is free with any $25+ purchase. I highly recommend making multiple purchases in order to guarantee the items don't disappear from your cart – since things go quickly!
A Secret Trick for shopping the 2022 Sunshine Sale
So none of the items that are on sale are listed on Lilly's site before the sale. However, there are other retailers that will also be offering sale prices (sometimes even less than the Lilly site) on many of the same items. If something sells out during the Lilly Pulitzer Fall 2022 Sunshine Sale, do not fret. Check the following retailers as well:
Sneak Peek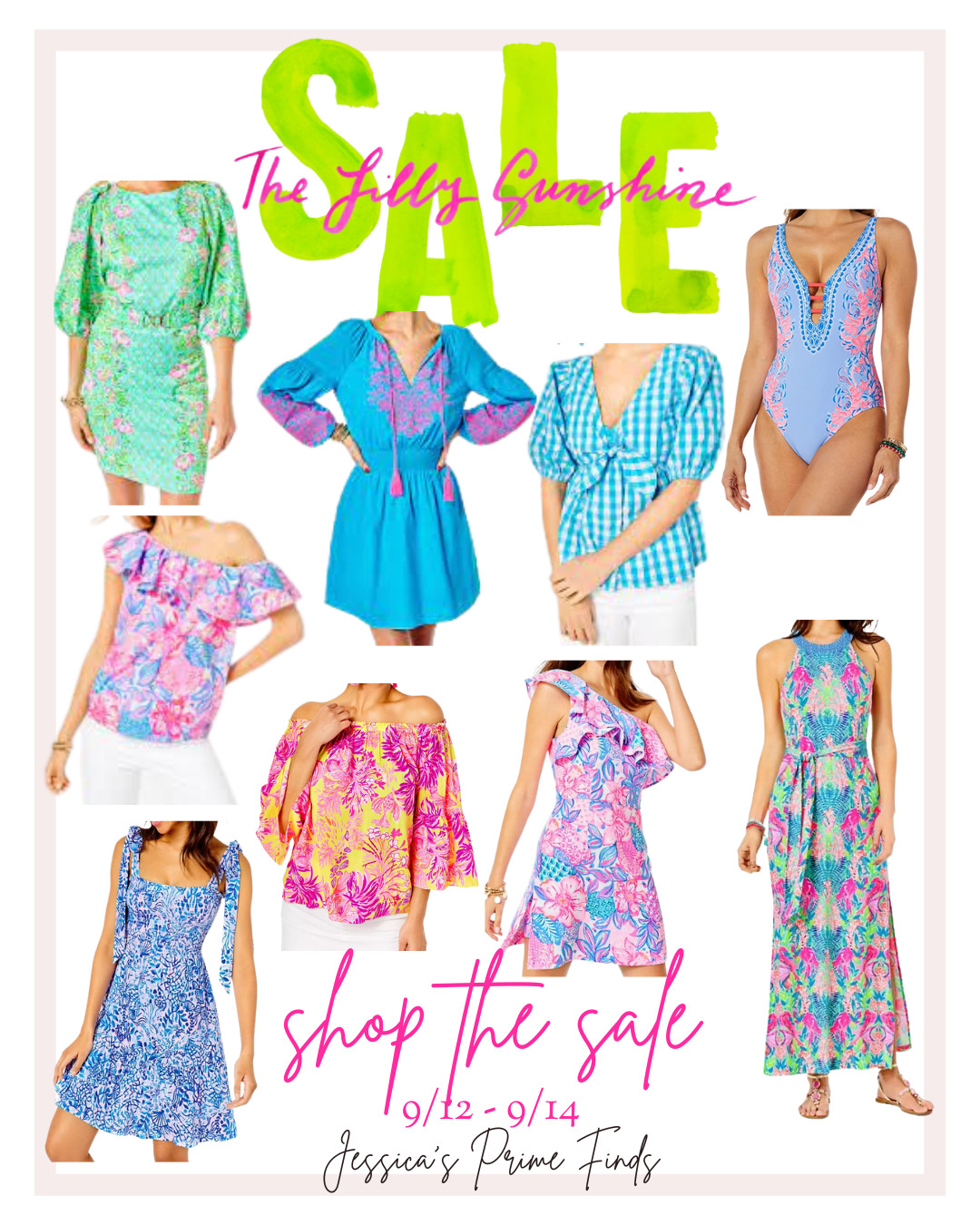 Shop some of my favorite non-sale Lilly Pulitzer items here.
As an amazon associate, I earn from qualifying purchases. This includes sales through affiliate links on this page.