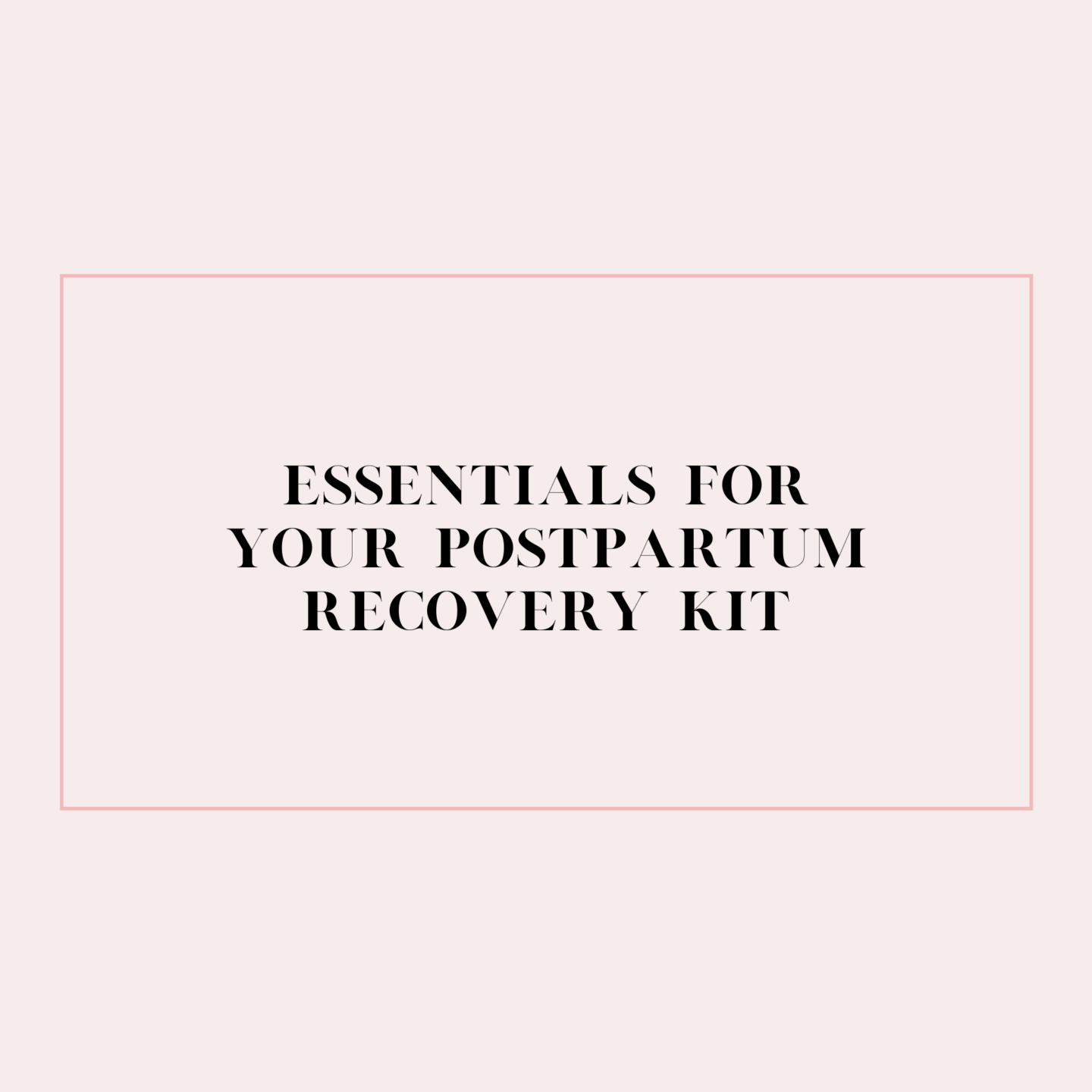 Five Must-Haves for your Postpartum Recovery Kit
What's all this stuff for?
Postpartum recovery is something you're not prepared for. School teaches you all about sex and pregnancy, but postpartum is almost this taboo thing that nobody tells you about until you're actually pregnant.
Once you are postpartum, your perineum will need to heal. You may tear, you may have stitches, you may just be swollen… but your body will need to heal and there are things you can buy to make yourself feel better postpartum.
A postpartum kit of essentials will help you ease the pain and discomfort, while also helping to speed along your recovery.
In the hospital, the nurses will teach you the order to put things on. The nurse will likely put your first kit together for you and accompany you to the bathroom. The nurse will then give you a pair of mesh undies. She will teach you to rinse yourself with a peri bottle full of warm water. The hospital bottle was NOT my favorite, but more on that in a bit.
She will then provide you with a GIANT pad to place in the mesh undies. On top of the pad you will place an ice pack, that you need to get a little wet, and on top, you will place three Tucks witch hazel pads. While they are recommended for hemorrhoids, they also really help with healing the perineum! Basically, you're putting together an open-faced salami sandwich in your pants…
I actually preferred a lot of the stuff they gave me at the hospital. However, when I got home, I put together my list of postpartum essentials based on the other products I had tried.
Postpartum healing is not something you learn about in school!
It really is this unknown thing that you aren't sure what to expect from as a first-time mom. You know you're about to have a baby, but what happens after? What should you do to make yourself feel better after pushing out a human? Being prepared can help you feel less scared about this unknown time!
Here is the list of items for you need in your postpartum recovery kit:
Disclaimer: Links to products throughout my site may be affiliate links, which means I get a small commission for purchases or clicks made through these links (at no cost to you). Thank you for using my links and supporting my blog!
Knowing what each product does and why we use these products can help you feel more prepared and at ease about the entire postpartum recovery process. Having these items on hand in your postpartum kit will help make your recovery smooth sailing.
If you are only going to buy one item ahead of time… make it the Fridamom Peri Bottle! This peri bottle is everything. I still use mine when I get my period. The design of this bottle sprays water upward instead of forcing you to twist your hand with a regular peri bottle and maneuvering it in a weird way to get the perfect flow.
Why do you need it? The peri bottle helps you rinse while and after you go to the bathroom. Some women tear in a way that makes it uncomfortable for them to pee, likely due to stinging. The peri bottle allows you to spray warm water onto your vaginal area while urinating to eliminate the sting. It also helps you stay clean down there since it's not recommended to wipe for a while after having a baby. Instead after using the peri bottle, I would blot to help dry the area.
I haven't tested this Amazon one out, but it's half the price and does the same thing!
Tucks Pads are the holy grail of postpartum recovery. Some women need them due to hemorrhoids that appear due to pushing during labor. For me, it was more about the cooling effect and how they helped my stitches heal.
Why do we need it? During a vaginal delivery, or pushing that leads to a c-section, your vaginal area swells and possibly tears. Witch hazel contains a naturally occurring healing chemical that helps heal the perineum. These postpartum witch hazel pads also heal any hemorrhoids that occur.
Fridamom witch hazel liners are also an option, but I feel like the Tucks did a better job at giving me that cooling effect.
The ice packs they gave at the hospital were ok, but these icepacks by Fridamom were my absolute favorite! They stayed cool for a long time and I could pop them right in the bathroom, no need to go all the way to the freezer.
Why do we need it? Ice packs are another cooling technique to help ease discomfort and pain after childbirth. Plus they absorb more of the gross stuff coming out of you and are easily disposable since they are one-time use.
Once you aren't bleeding as heavily, you will want to switch to a thinner, smaller pad. I used these from one week postpartum until probably three weeks postpartum. Then I switched to these.
Why do we need it? Your body will continue to bleed for up to six weeks after giving birth. Doctors do NOT want you inserting anything into yourself for at least six weeks, which means NO TAMPONS. Period pads do the trick once you stop bleeding as heavily.
The first poop after giving birth deserves its own blog post. Just always take any stool softener the nurses offer you and don't stop taking it until you are super confident in how you are healing.
Why do we need it? The first bowel movement after giving birth is absolutely terrifying. How do you poop without feeling like you're going to tear? It's a whole thing. The stool softener helps make your bowel movement smoother and provides you with a way to go to the bathroom without having to push.
If you are breastfeeding, here is a whole list of things you may need for your boobs.
I kept my breast products on my nursing cart in my daughter's nursery, where I was primarily feeding her. My bathroom setup was on a separate rolling cart specifically for postpartum necessities.
Moms who have a c-section: you still need some of this stuff.
I was told that if you attempt to go through a vaginal birth but end up having to have a c-section, you may still be swollen and need some of the witch hazel products. Additionally, regardless of how you deliver, you will bleed after! Your uterus needs to empty all of that stuff that was in there for nine months! My friends who had c-sections bled for 4-6 weeks after still, just like I did after my vaginal delivery!
Other Options for your Postpartum Kit
Always Discreet Diapers or the Fridamom Underwear are alternatives to the mesh panties they give you at the hospital. I preferred the mesh undies, and am so glad I took a bunch of extras. I then switched to my maternity underwear for a while, before finally putting on my regular cotton bikini-cut undies.
Lots of postpartum nurses recommend a Sitz bath. I never tried it, but I think it may have helped me heal faster.
Quick tips:
If you don't mind how it looks, keep a large garbage bag in each bathroom. I hung mine on the back of the bathroom door and would replace it every day. It made it super easy to throw away garbage, which there's a lot of between rappers, adult diapers, and pads. I didn't have to worry about filling the small trash can in my bathroom each time.
Also, if you are planning on using more than one bathroom, figure out what you're really using and have a postpartum essentials kit in each bathroom. For me, I just used the one by my bedroom, because I spent most of my time in bed or on Sasha's rocker since sitting anywhere else was uncomfy.
Nurses don't recommend donuts like this one because they can cause hemorrhoids, but this was the only way I was able to sit at the dinner table with my family. I used it for short bits of time during meals and recommend it if you find your kitchen or dining room chairs are uncomfy!
Fridamom makes an essentials kit, and a larger kit for labor and delivery as well, however, I suggest picking and choosing what you want. You aren't saving much by buying the kit versus buying each item at BuyBuyBaby with 20% off coupons.
Side note: Did you know you can use Bed Bath and Beyond coupons at Buy Buy Baby? And did you know you can still use them if they are expired? You can!
My mentality is it's better to have all of these products on hand and need to return some of them, rather than be searching for products to use with a brand new baby at home!
Did you have anything else you loved during your postpartum recovery? Let me know in the comments below. Are you a first-time mom and have other questions? Ask me in the comments!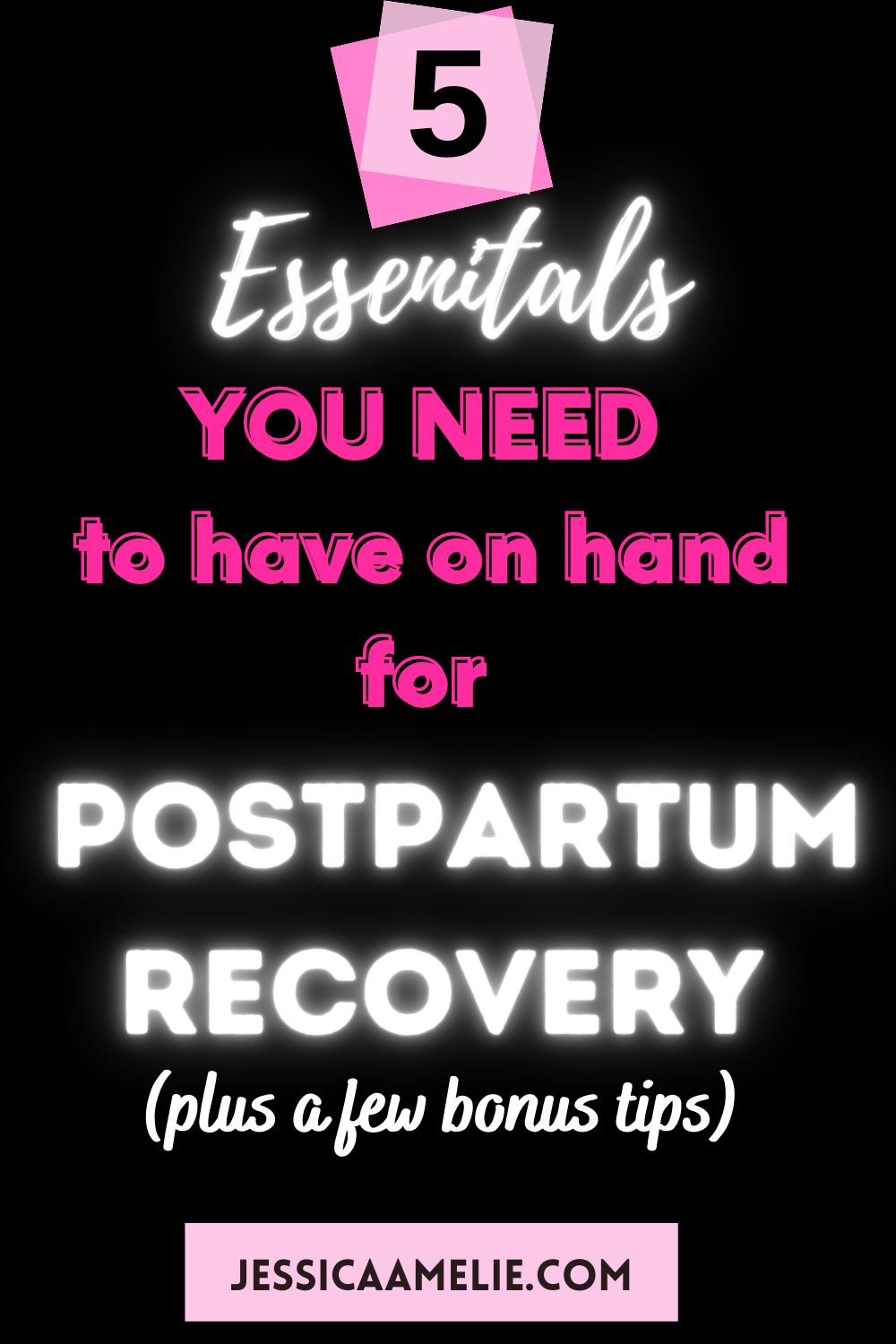 As an amazon associate, I earn from qualifying purchases. This includes sales through affiliate links on this page.